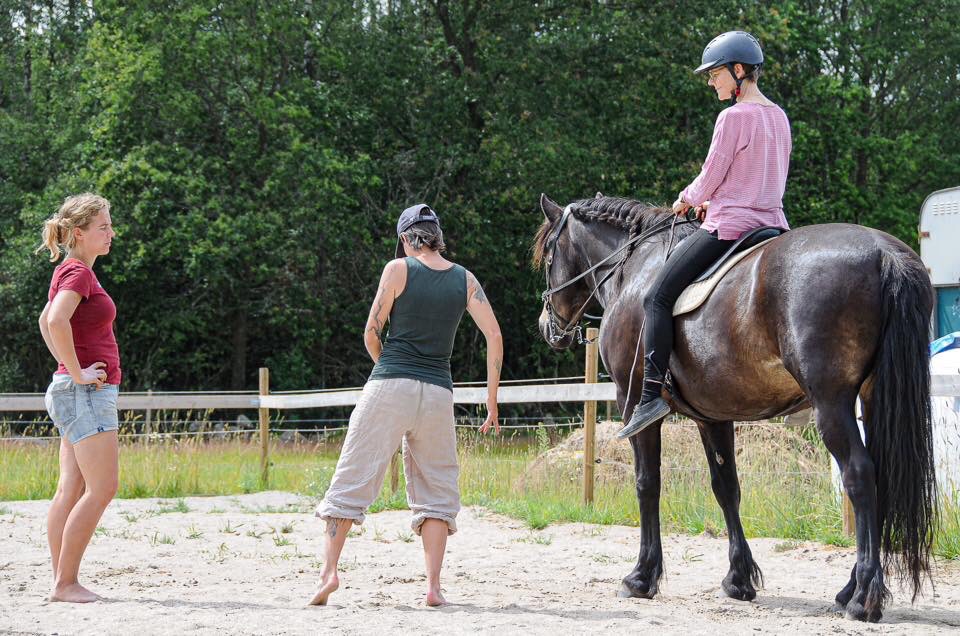 Joy of Movement retreats
Jag och Monika Sanders erbjuder retreat Joy of Movement. Så här beskriver Monika:
"Serena and I have done the Joy of movement retreat together at my home twice now.
Already the first time I realised that this was something unique, but after the second one this summer I know for sure, that this is an important opportunity to grasp with both hands and make available for more people.
The Joy of movement retreat offers a very deep and wholesome approach to combine all the things I am so passionate about: body, mind and spirit in humans and horses. Serena and I know each other quite well and are able to work together and lift each other in a very harmonious and playful symbiosis, we have found that teaching together brings twice the result with double the joy 
 It makes for a very good vibe and learning environment and a very wide possibility for deeper understanding of ourself and our horses.
Serena is a very passionate, curious and knowledgeable teacher, she is a physiotherapist for humans and keeps on educating herself constantly with many horse and human related courses. She now works self employed as an instructor and horse trainer.
Serena will do movement classes for us and teach us more about how the human body and mind works and I will sometimes during the classes point out the parallels to our horses and horse training.
Then I teach the lessons with the horses, still with focus on body and mind, and Serena will be there next to me and point out the parallels to the movement classes and help with body awareness in the rider and thoughts on the horses.
We will also have a theory and conversation session everyday, covering both physical and mental subjects.
As we set it up as a offline ( no phones or Internet) retreat and all stay at the same place and eat all meals together it brings us all a bit closer and we get to be part of a group where human connection, communication and sharing can go a little deeper than normal.
I deeply wish for all my pupils that they will get the opportunity to take part in this retreat, as I have witnessed the fantastic tools it gifts to the participants."
Mina egna ord om Joy of Movement:
"For me the retreat Joy of Movement is an opportunity to dive deep into what it means to be human, together with horses. We explore human and equine movement and develop tools and mindsets that we then can use together with our horses. We can help them find the joy of movement that might have been lost and ourselves to become a little better at following their movement. I teach about the different aspects and concepts of movement which makes us understand more about ourselves and our horses and what we want to develop and learn. We are not parts, we are whole. This means that we through this approach also will explore our mindsets and emotions. We create an open, safe space for learning, exploration and development. And time for just being, which is essential for any development to take place. Monika has a lot of experience with the biomechanics of horses and her great knowledge and passion for the mind and spirit of both humans and horses match into the movement practice so well. This combination helps us find what we all seek for with ourselves and our horses, no matter what or what way we want to do things – joy of movement."
Från och med 2020 kan du arrangera Joy of Movement retreat med mig och Monika i mellan 3-4 dagar för ett specialpris. Vi kommer också arrangera ett sommarretreat hemma hos Monika i juli 2020.
Kontakta mig om du vill veta mer.
Så här beskriver tidigare deltagare Joy of Movement
"Anbefales!
 Både jeg og Ulvegutt lærte mye nyttig vi kommer til å ha bruk for i lang tid
 Desidert sommerens høydepunkt
" 
"Sommarens absoluta livräddare 2018, några oerhört viktiga dagar för mig både privat och i jobbet 
"
"Fantastisk retreat! Monika og Serena formidler "Jøy of movement " på en helt unik måte. Å leke med bevegelse med og uten hest har blitt en stor glede i hverdagen min.
"
"We had conversations, play, laughter, strength, vulnerability, lessons, theory lessons, movement sessions and a whole lot of learning. Absolutely amazing!
Unquestionably the best week this summer, and I will come again and again and again. For me the Summer Retreat was a time where I dared to (mostly) let go of other worries, which opened up for me to wholeheartedly delve into learning and analyzing and questioning, and into exploring both movement and psyche for both me and my dear mare.
Analytical as I am, it was a dream come true to have access to Monika and Serena for such a long time – with all their knowledge and experience and willingness to explore. Whenever Serena and Monika introduced new concepts to us, we explored them in many different ways, both mentally and physically, both implicitly and explicitly. This was very effective, it gave us so many opportunities for understanding and "connecting our dots". Both what we learned and the methods of teaching us were very educational to me. Add to this all the interesting knowledge and experience of the other participants! Both horses and humans. I loved it 
The Summer Retreat was also good for me in many personal ways. It was a dedicated time to learn, together with other people, some new and some already dear to me. I was gentled (definitely in no way forced) into daring to stay a bit in mentally uncomfortable situations, and through that exploring what I felt and learning new ways ways to cope. I also again and again felt the the relief of sharing my experiences. Monika and Serena are superb at making one feel safe, and feel enough 
 From such feelings, learning is so easy and rewarding!
I have shared several of the movement exercises with friends and family, and we have explored together. Showing and teaching gives me a better understanding, and I continue to explore movements by myself and with others. I still daily quote from the Summer Retreat to myself, and continue to explore all the seeds that were planted in me. 
"